Security Caging Products
Cross-guard by Newton.
Secure and protect your company's valuable assets with Cross-Guard Security Caging by Newton. Made in the USA, our sturdy 16-gauge steel caging solutions provide a secure perimeter around any asset that requires an added level of security. Durability and long lasting aesthetics is manufactured in every panel with a powder coat polyester painted finish. Sight options are provided with choices in square hole pattern size which include ½", 1-½", solid, and a combination of solid and square holes (hybrid). Optional roof and under floor panels are available to provide added security. To discuss what Newton can do for you, please direct all inquiries to your Newton Customer Service Representative.
Modular Scalable Caging Systems for the Data Center Environment
Manufactured from rugged 16 gauge thick steel construction
Powder Coated with Polyester Hybrid paint for a long lasting and durable finish.
4' Sliding door weldment with high security mechanical locking system
Standard co-location cages can be configured in 4 x 8, 8 x 8 or virtually any sizes that fits your needs.
Standard heights are 8 feet with cage extensions to reach twelve feet in height
Modular and scalable, caging systems for the data center environment can be re-configured to meet future demand
Optional
Bar Code Reader for entry access
Roof Panels for additional security: HIPPA, Financial, Government applications
Below the raised floor physical barrier panels for additional security.
Airflow
Standard panels are punched to provide approximately 53% open area.
Solid panels, Perforated patterns designed to manage air flow, hot aisle, cold aisle available.
Stability
Caging is anchored to the floor, braced at recommended intervals
Support Angles Brace Long lineal runs, as well as, overhead bracing kits
Cage Assembly
Cages consist of vertical posts, horizontal posts,wall panels.
Wall panels are available in small, large and extra large panels
Vertical posts are placed nominally at 8' intervals
When fully assembled two small panels and one large panel make up an 8' section
Ceiling Panels are modular and available in lengths corresponding to various cage sizes
Doors are constructed using a Door Panel and Door Kit
Made n the USA
All our products are manufactured in Butner, NC, USA
The Security Caging Catalog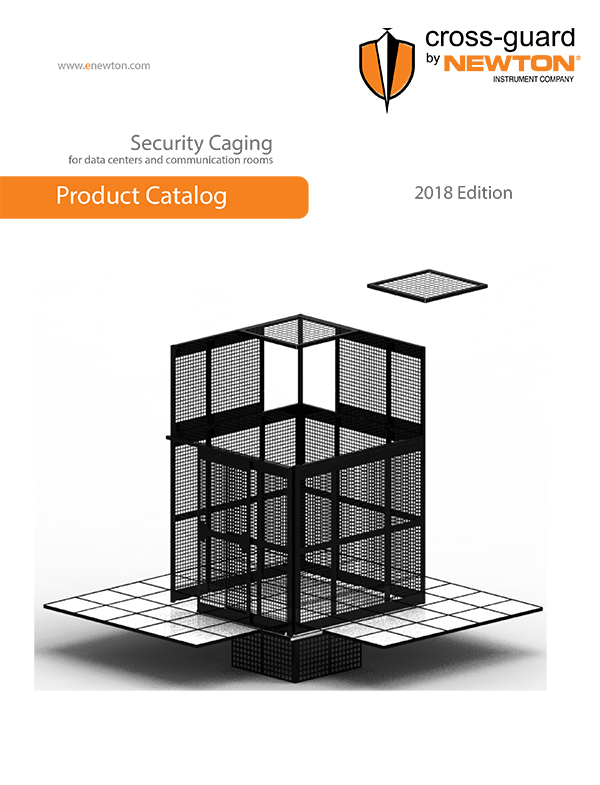 A catalog of Newton's Security Caging. If you prefer to download by section, follow the links below.
The Security Caging Products